Enabling Enterprise Membership in Insomnia
This guide provides step-by-step instructions on how to enable enterprise membership for your Insomnia API Client account.
Step 1a: For new users - Create Account and pick Enterprise Plan
Follow the steps to create an account

After you create the account you should see a menu to pick a plan

Pick Enterprise plan and skip to Step 2 of this tutorial.
Step 1b: For existing users - Upgrade Account Plan
Navigate to your account dashboard.
Click on the Upgrade button to initiate the upgrade process.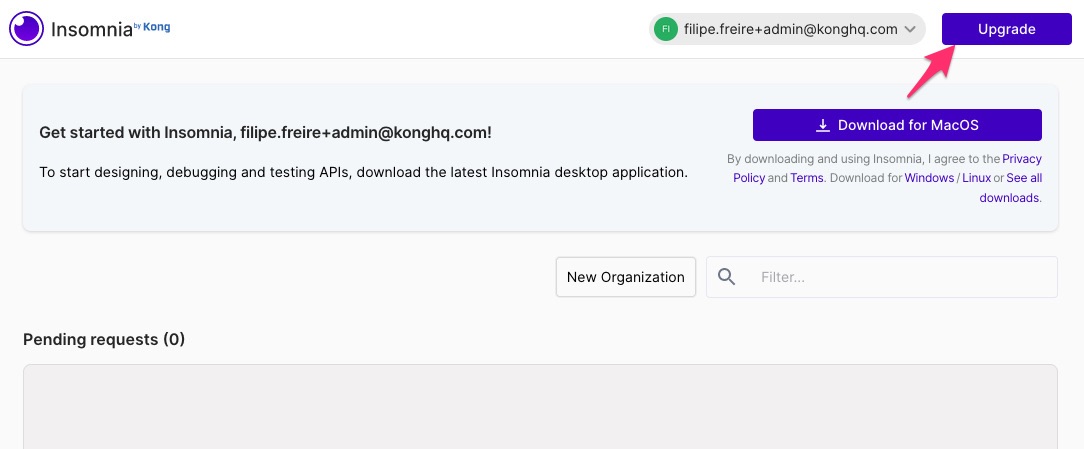 Step 2: Activate Enterprise Membership
With Activation Code:

If you have an enterprise activation code, enter it in the provided field.
You should be able to preview the details of the enterprise plan after submitting it.

Without Activation Code:

After applying the activation code, click on Upgrade Subscription.

You will be redirected back to the organization dashboard.
Step 3: Create Your Organization
Click on New Organization to start setting up your enterprise-enabled organization.

Enter a name for your organization.

Click on Create Organization.
Step 4: View Organization Dashboard
After creating your organization, you should see it listed on your dashboard.
Optional: Manage Your Organization
To manage your organization, click on the Manage Organization submenu option next to the organization you wish to configure.

In the organization setup page, you can invite members and configure additional settings, such as enabling Enterprise Edition Single Sign-On (EE SSO).